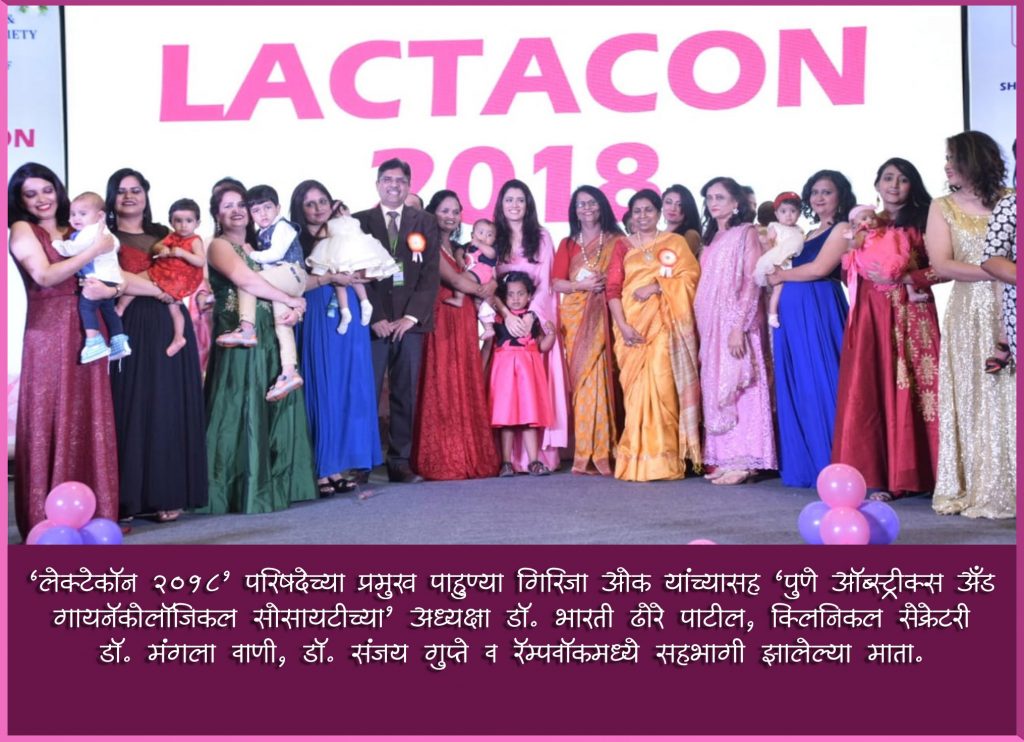 'Breastfeeding important for the health of newborn baby' 'Expert opinion in the 'Lactacon 2018' Conference
Pune: "Breastfeeding within one hour after childbirth is good for the health of the newborn and its child's health is used for a long time," experts say. In association with 'Pune Obstetrics and Gynecological Society' (POGS) and 'Indian Academy of Pediatrics', a one-day conference of 'Lactation 2018' was organized on Sunday, on the occasion of World Breastfeeding Week.
Actress Girija Oak attended the conference as the chief guest. At this time, Pune Obstetrics and Gynecological Society (POGS) President Dr. Bharti Dhore Patil, Clinical Secretary Dr. Mangala Wani, Former President of POGS  Dr. Sanjay Gupte, Vice President Dr. Ashish Kale, Executive Vice President Dr. Pankaj Sarode, Saraschiv Dr. Milind Dugdh, Treasurer Dr. Madhav Kankavale, President of Indian Academy of Pediatrics Dr. Sanjay Mankar, Maharashtra's BPNI coordinator Dr. Prashant Gangal and other dignitaries were present.
On this occasion, a ramp walk was organized, in which the mothers had participated.
At this time, Girija Oak said, 'There is a need to create confidence in mothers about breastfeeding and its benefits. This requires more support from the family. Improving the facilities available for breastfeeding. For that, you should provide good solutions and help. It is necessary to make efforts to create awareness about the importance of breastfeeding in all areas. '
POGS Clinical secretary Dr. Mangala Wani said, "It is important for the mother and baby to approach each other in the first hour of the day, which is very important for the health of the newborn, and if it does not happen, then the baby can face many risks in the future. The obstetrician plays an important role in creating awareness about breastfeeding. '
Dr. Milind Dugdh said, 'Dairy and lactation need to get maximum importance in our educational curriculum. The concept of 'POGS' this year is 'Just Care for Her'. We have taken up this program to supplement this concept. 'POGS' app has been developed and the Speculum Newsletter has been reproduced'.